This post is also available in:
German
This blogpost contains unpaid advertising due to mentioning brands, locations, events etc.
There is sooo much snow… YEAH.
Well, without snow Winter is just a colder version of April. And who wants to have 4 months of April anyway? I bet no one does. Winter and snow are best bros and belong together. I think their teamplay was pretty great so far. We had snow in the city and lot's of snow in the Alps. I hope these two besties will stick for a little while longer this year. Still so many wintery adventures to experience…
There is sooo much snow… BUGGER.

Ok, ok… a lot of snow has it's downside too. It's pretty hard to go trail running or hiking, cause their are no trails and paths resp. there are meters of snow above them. Lucky us, some of the Winter destinations do their very best to clear some trails for us and flatten paths to go running, hiking or take a stroll with your loved ones. I put together a few suggestions for you.

Where to go.
Ammergau Alpes
Oberammergau is about 92km away from Munich and a lovely spot for a lot of wintery activities without tourist masses. The Ammergau Alpes provide 120km of cleaned winter paths which is quiet a lot. They have a marking system aswell: all the path signs are labeled with a snowflake and a number. I have tested two of the suggested trails.
Pürschling
Start and End: Pürschling parkling lot, Oberammergau
Way up: 10km and 680 meters in height, follow snowflake 8
Way down: Same route, bring a sleigh for downhill fun… 🙂
Equipment: Grödl/Spikes are not necessary but I recommend hiking poles.
Fact: August Schuster Haus is closed till May 1st, you better bring a snack.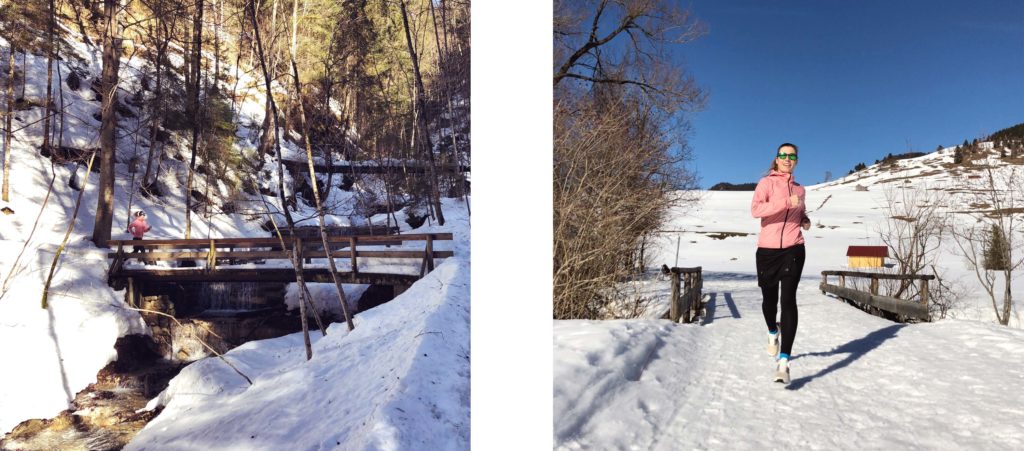 Altherrenweg
Start and End: WellenBerg, Oberammergau
Roundtrip: 10,5km and 145 meters in height
Equipment: nothing special necessary
Fact: Follow Snowflake 4
Tiroler Zugspitz Arena
All in all, you can choose from 49 different (over 60 km) of cleared winter hiking trails in the Tiroler Zugspitz Arena. I have been there quiet often this Winter and I love the region a lot. For hiking without snowshoes its pretty awesome, for trail running, well I found a few spots… 🙂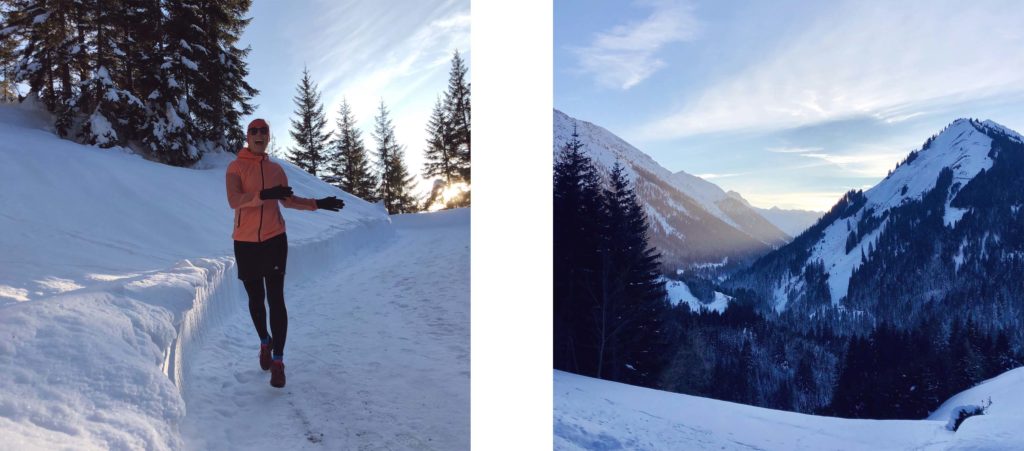 From Berwang to Mitteregg
Start and End: Chapel at the end of the village, Brewing
Roundtrip: 12km and 400 meters in height
Longer Trail: When you get back, follow signs to Untere Gasse and run up to Heiterwang Alm which is open and has sun till the end of the day. Additional 2,8km and 272 meters in height
Equipment: nothing special necessary
Fact: Follow the signs to Mitteregg, you need to run along a road for a few kilometers
Oberstdorf
Ok, Oberstdorf is a little bit more far away but worth a trip. If you have a weekend time, go to Allgäu. With 140 kilometres of groomed trails, Oberstdorf has one of the largest winter hiking trail networks in the Alps. This is pretty impressive. I only had little time to check them out, cause I was cross country skiing but I ran one trail and got a tipp for another one.
From Oberstdorf South to Lake Freiberg
Start and End: Schlechtenbrücke, west Oberstdorf
Roundtrip: 9km and 291 meters in height (if you circle the lake)
Longer Trail: From the lake run to Schwang, backwards along little Stillach river. When you get back to the valley, circle the Kneipp Park. This adds around 5-6km to the route.
Equipment: nothing special necessary
NoGo: Don't run on cross country ski tracks!
I hope I could give you a few ideas for running and hiking in winter. Of course this is only a very small list of ideas. Check out the websites of the tourism regions linked in the copy for more tracks and detailed tipps.

Have Fun in the Alpes and try to leave no trace 🙂